Sometimes car care can be confusing…..but that's why were here, check out our video of learn more about us!
CarAdvise is a free online car care platform created to help you manage all of your car's needs with ease. We're here to make car maintenance more trusted, more convenient and more affordable, all from the ease of your smartphone.
We Believe Car Care Should Be More Convenient, More Trusted & More Affordable
With CarAdvise you can take car ownership to the next level and easily manage all aspects of your vehicle online. CarAdvise understands that car care can be difficult, confusing, and expensive. Too often we've seen people overpaying for routine care and getting ripped off when making repairs. CarAdvise built our platform with all of that in mind. CarAdvise members can see all of their past vehicle maintenance and are reminded about upcoming recommended maintenance. They can talk to certified technicians to make informed decisions. They can even pay online, all from the convenience of their smartphones.
Features that make this possible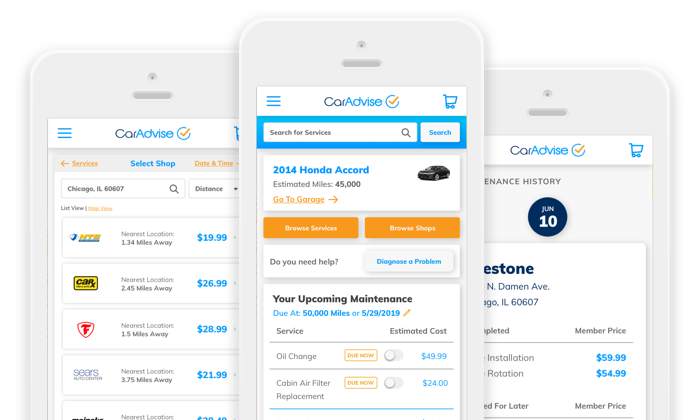 What is a Fleet?

A Fleet is any number of vehicles managed by a person, group or company. CarAdvise bundles the fleets of individuals and small and medium businesses to create the largest consumer Fleet in North America. The bigger the fleet, the more negotiating power that fleet has. That's really important for Fleet Pricing.

What is "Fleet Pricing?"

Fleets can leverage the number of vehicles they have to lower the price on services through bulk discounting. Because CarAdvise can deliver a certain amount of business to shops, they are willing to negotiate lower prices on oil changes, brakes, tires, really any car repair. Businesses have been using this tactic to save money on their car repairs, and now you can too!

We'll Always Be Upfront! CarAdvise is the only maintenance platform that guarantees the price you see is the price you'll pay.  This way you can compare prices online, knowing you'll receive the best price and that price won't change. 
Introducing a new touch-free maintenance process
CarAdvise stands behind its technology and our core values of trust, savings and convenience through our Trust Guarantee.
Everything needed to manage your car, all from your smartphone.
It's time to take control of your car maintenance.